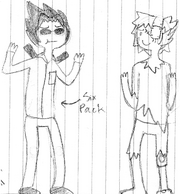 So would it be possible to turn Robo Hobo and Weeaboo over to the left into fitting characters, formidable foes, or members of another arc perhaps? Of course they need designs finished, and consideration that me and Oda made them so long ago. Do you see potential?
I also have weapon ideas up for grabs that could be used, maybe for like Lily's stash in "No Sleep", or the weapons (I think it was) in the shed in "Troll Battle". OR I just came up with it this moment, since Feron doesn't have a set weapon/skill, he could collect them and fight using various arms. I think I like my most recent thought better, but I still should get opinions first.
They don't have designs (some have a little) yet, but those can be quickly made if needed.
The weapon names are:
Ice Sickle (Heh heh)
Shadow and Solar Steel Butterfly Knives
Infernal Chainsword
Sparkstrike Shank
Karma Katana
I come up with these super fast guys, so I could make more if we needed them for some reason.
Also, in me and Oda's old fanfic, there was animals with special powers. If we're sticking to nuclear warfare, wild animals could have abilities like that.
PS: I have a "Who Would Win" event idea. But before I finish it, release it, and set dates for it we'll need more characters, introductions, details, etc.