Hello guys! I will be here everyday now and be in chat 24/7 (MAYBE!) I was thinking a Christmas Special? To get 'em spirits lifted. I know not much people are active anymore and maybe when we make something special we might get more users or something in here. So big plot, many characters and maybe a small animation?
'(Be in chat for this :DDD)'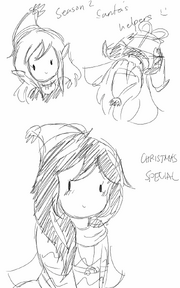 <--- I made this. I KNOW IT SUX DON'T JUDGE. I DID MAH BEST
Ad blocker interference detected!
Wikia is a free-to-use site that makes money from advertising. We have a modified experience for viewers using ad blockers

Wikia is not accessible if you've made further modifications. Remove the custom ad blocker rule(s) and the page will load as expected.